From the timing of his release (paired with Karen 7), to the products in his Starter and Pro bundles, Scott 6 is a theme character, and that theme is "action hero". And he looks like one, with his chiseled features and bulging muscles. His appearance is slightly weathered, and a little older than your typical action hero -- but that seems to be an emerging trend in popular culture (Daniel Craig, a most excellent James Bond, is certainly the most mature looking of the crop of actors to play the secret agent).
With the character only purchase of Scott 6 you receive the following:
Scott 6 Shape presets (Body and Head)
A custom UV for Scott 6
3 Delight Material preset
Standard complement of textures including: diffuse, bump,

specular

and normal maps
Genital textures and material presets (Genital figure only comes with Genesis 2 Male Pro bundles, if you already have it from Michael, Gianni or Darius, you've got it)
Along with the fact that a Genesis 2 character was released at this late a date in the release cycle (well after the release of Genesis 3 Female and SEVERAL female characters), it is worth noting that the material presets are not as numerous as other releases, with very little in the way of options and only for3Delight-- there is no officialIraymaterial preset for Scott 6, nor does he seem to come with Poser materials. The lack of Iray materials is disappointing.
I'm not one for using material presets "out of the box", but I at least like to see what the artists who developed a character have come up with for their own vision. Scott 6 is a bit of a catch 22 in this regard: it is great to see more male characters and accessories, but some of the options (at least in terms of materials) that the audience has come to expect are lacking. That is not to say that the package is incomplete, and frankly, it might be considered nice by some to not be assaulted by a bewildering amount of options that really might not be necessary. All we have are the Soctt 6 default materials, a materials file for the genital figure and Normals On/Off files.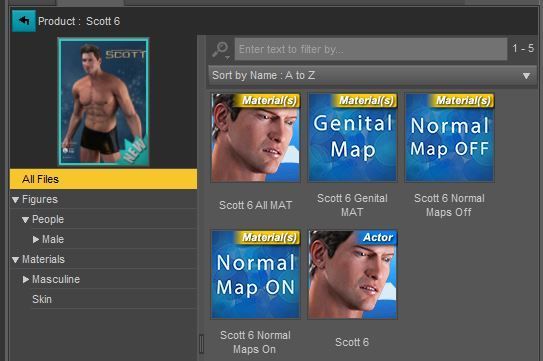 The default 3Delight material settings are good, employing the Age of Armour Subsurface Shader to nice effect. For me, personally, the effect is a little overdone. I have always leaned on the side of less is more and prefer my materials to show more of the diffuse texture and less effect (and that may have a lot to do with my lighting tendencies). I do take issue with the cornea setup, which has subsurface scattering turned on. Why? The eyes turn out cloudy and not particularly alive. My own preference is to use the ProjectEyeris Shaders, which you will see in my Scott 6 gallery.
The textures themselves are definitely of the quality one has come to expect from a major character release. The diffuse textures are detailed and have very nice color variation and tones. Scott 6 comes with no bump maps for the main figure, only for the genital figure for which there are no normal maps. I don't consider this to be a negative as the normal maps are quite detailed. Specularmaps are pretty standard, with some attempt to highlight the T zone on the face, with some extrahighligtingof the lips. The normal maps are quite fine, with exquisite detail, providing Scott with that overly-cut physique. He also seems to have one of the most detailed facial normal maps that I have seen.
It should be noted that one can dial down the effect of the normal map. At the default, full-on setting, its dramatic and kind of over the top. But if you back it down, you can achieve more subtle and perhaps realistic effects, but he's supposed to be a comic-book hero... so, perhaps Scott is not the right choice if that's not the look you are going for.
Overall, Scott 6 is an impressive release and a welcome addition to the stable of boys from DAZ3d. I recommend him, and I'm actually quite pleased with the complete package from shape to textures to material settings. The bare bones material options are a nice respite from the usual deluge and are definitley a less-is-more proposition.
Post Script
As I worked on the easter egg/freebie for this review, an Iray material set for Scott 6, I discovered one troubling factor: Scott's finger and toe nails are HORRIBLE. They look like he has pink nail polish on, and nothing I try seems to be able to correct this.